Mistake 1: Using Too Many Colors
The Fix: Keep It Simple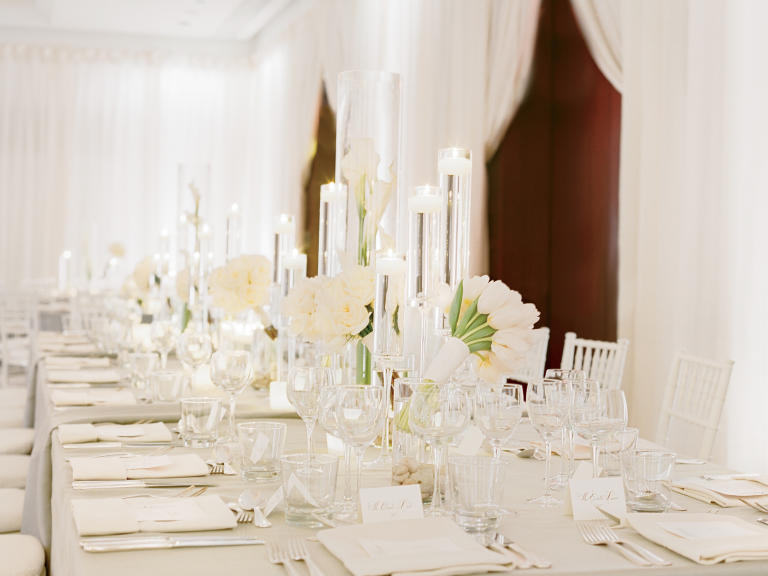 With a few exceptions (see our next fix!), you should pick two to four colors that go well altogether and stick to them. Using the same colors throughout your wedding decor will help create a cohesive flow, so that every detail looks like it belongs in your vision. Narrowing your palette to a few colors will also keep elements like your centerpieces from looking too messy. If you prefer an undone look, opt for a few slightly varied shades of the same color. This will add depth without looking too chaotic. Or, for an especially striking style, go monochromatic a bold shade, like vivid purple or creamy white. The idea is to keep the look tailored for maximum impact.
Mistake 2: Limiting Yourself to Only Two Distinct Colors
The Fix: Break Rule #1 (Wisely)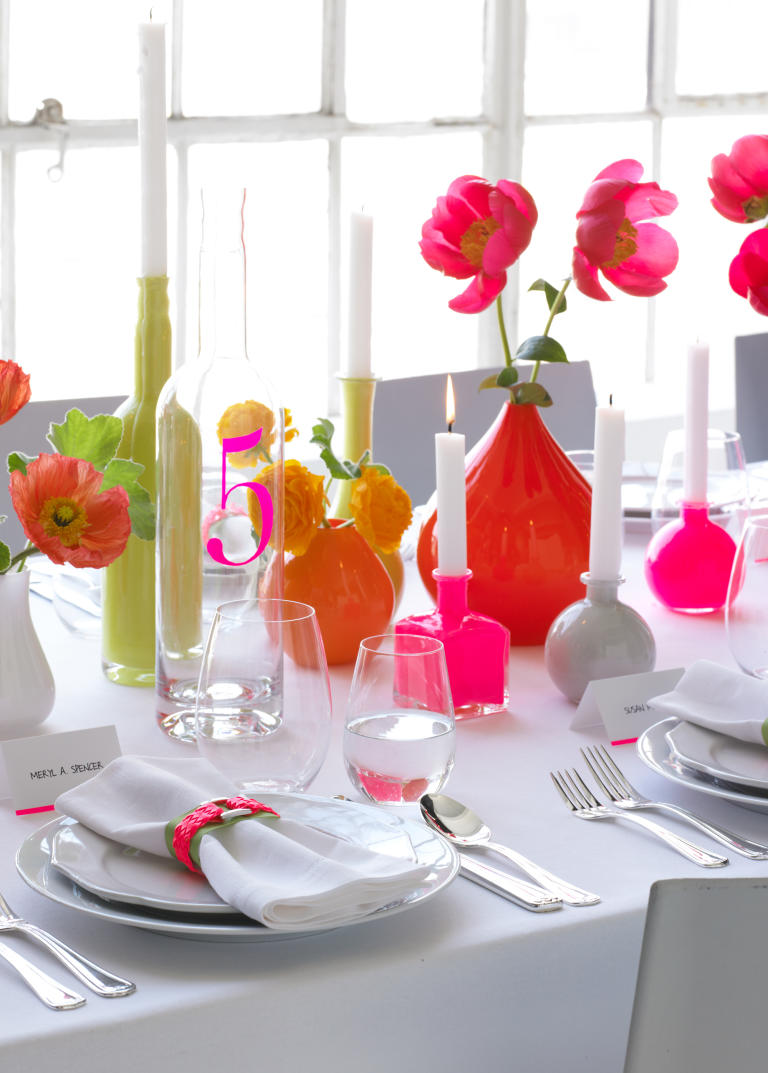 We're so over the strict "color combo" rule. Many gorgeous weddings have a variety of colors -- sometimes up to five -- that work together. The way to pull it off is to use more than one neutral, like cream and brown, in your color palette, or go for multiple shades of the same color to create a tonal color scheme. We love the idea of a summery color palette inspired by the many shades of hydrangeas, including sapphire and sky blue paired with white and gray, finished off with a few pops of sunny yellow to make it feel light and bright. A color palette with more than three or four colors can also help you create a specific scene -- like an English garden with green, yellow, pink, red and cream, or fall in New England with orange, red, yellow, brown and gold.
Mistake 3: Choosing Trendy Colors
The Fix: Skip Fads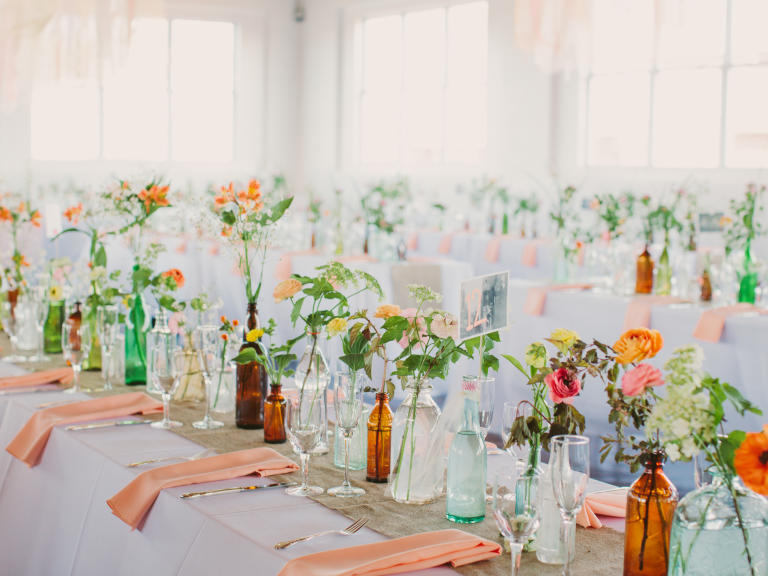 It's easy to get carried away with ideas you see in other weddings or in magazines and inspiration boards, but just because you love a fresh and unexpected idea on paper doesn't mean it's the right choice for your wedding. Your palette should be one that you won't mind living with for a long time, since you'll be framing photos and filling albums with those colors. If you're drawn to a color that's hot right now, consider using the trendy hue sparingly instead of making it the main event. Think about the colors and patterns you surround yourself with daily. Ask yourself: What colors make you happy? What color is your favorite room or sweater? The simplest meaningful objects, like a scarf or even a pillow, inspired some of the prettiest weddings we've seen.
Mistake 4: Using the Wrong Color Ratio
The Fix: Balance Brights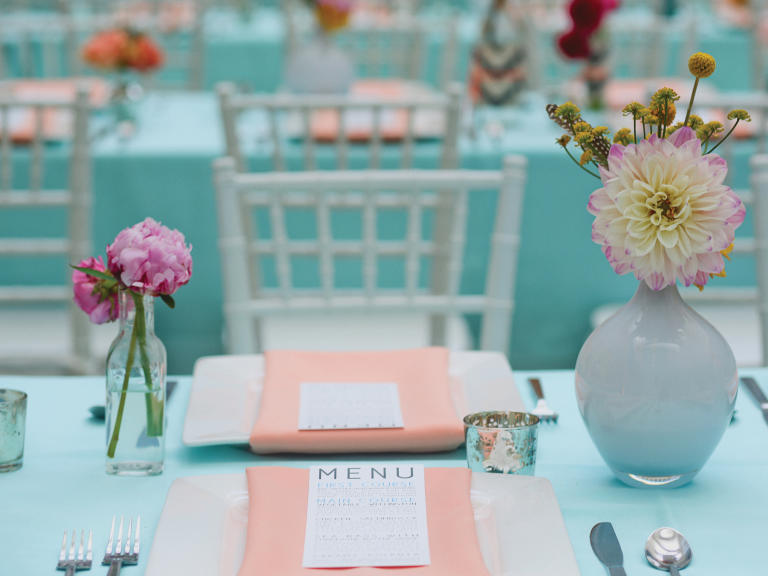 One of the biggest pitfalls in color selection is not considering the eye's need for rest and calm. Just because you have two dominant colors in your palette doesn't mean you should use them equally. Before you go any further in your planning, decide which hue will take center stage -- this choice will affect your decisions from linens to lighting. If you love bright orange, pick a more muted shade for your secondary color, like pale blue or navy instead of bright aqua. You want your colors to be complementary to your decor, but not distracting. The resulting contrast will let your favorite color shine. Thoughtfully balancing your colors is the key to making even the most crazy combinations look chic and sophisticated. Another option: Pick a few shades that are in between colors, like coral instead of bright orange and plum instead of amethyst.
Mistake 5: Choosing Predictable Colors
The Fix: Take (a Little) Risk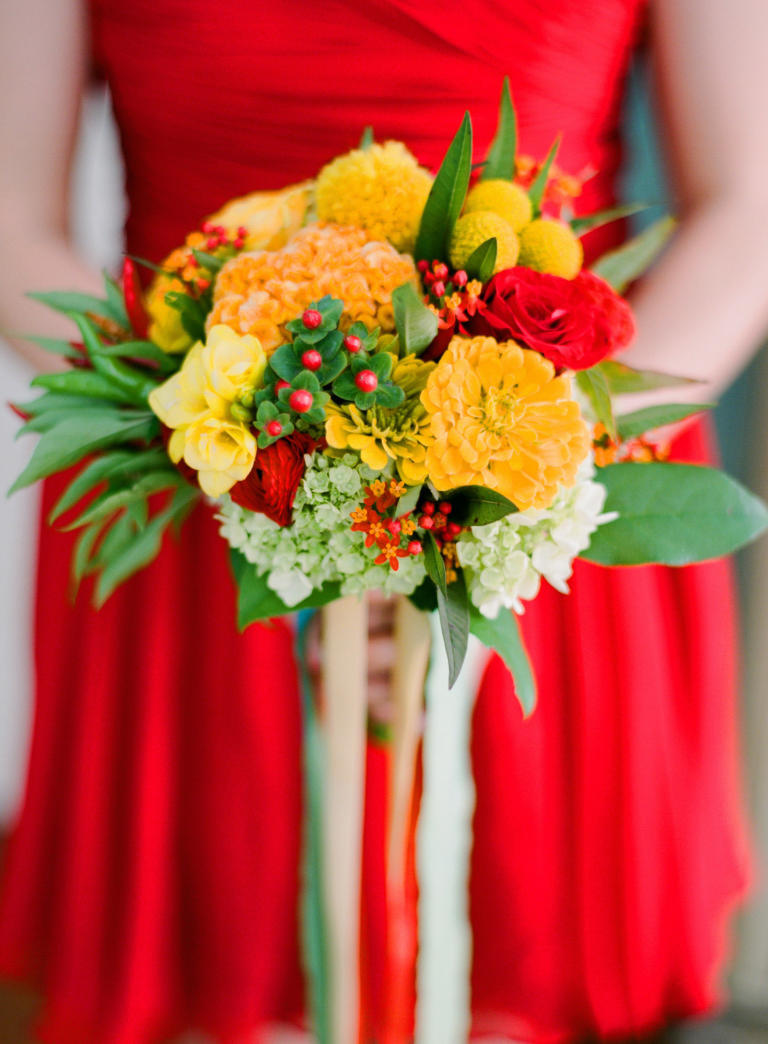 Certain color combos come with obvious connotations. (What comes to mind with the combination of red, white and blue, or red and green?) Keep your colors from reminding guests of their favorite holiday by subtly tweaking your hues. The trick is switching up at least one shade to downplay the resemblance. Instead of your standard red, white and blue, try bandana-red, faded denim and eggshell to banish any thoughts of Fourth of July. The same goes for forest green and pale pink if you're worried about your wedding looking Christmas-y. Or try adding another color to downplay the combo. Yellow dresses with red bouquets might conjure images of a popular fast-food restaurant, but breaking up the colors with white details, like lace or pearls, is a simple way to add elegance.
Mistake 6: Ignoring Texture
The Fix: Broaden Your Definition of Matching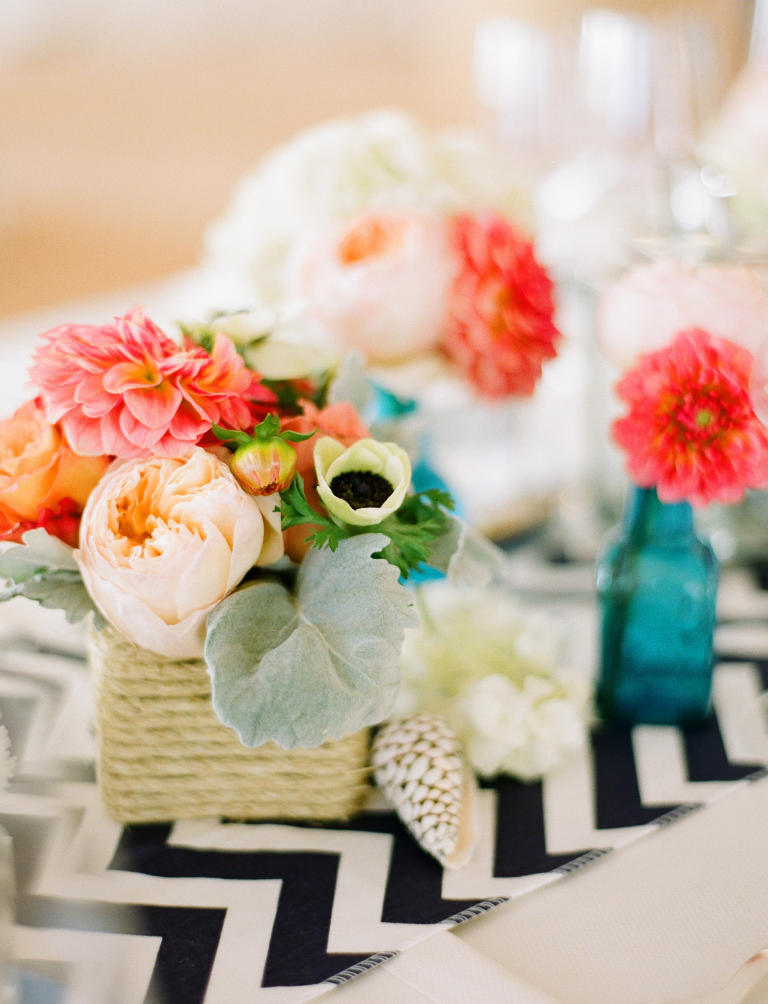 Two colors that go together may not look right when put side by side if they're different textures. A burlap table runner with red satin linens doesn't work as well as wooden planters on maroon cotton tablecloths, even though the colors are the same. Because your linens will cover so much of your wedding reception, they'll play a huge role in your color and texture decisions. Mixing textures in the same hue can also add more drama and depth to your wedding than simply combining multiple colors. Patterns like stripes or florals can help break up bold colors, so a hue like bright yellow or black doesn't overwhelm your tables.
Mistake 7: Ignoring Your Venue Colors
The Fix: Pick A Priority (Colors or Venue)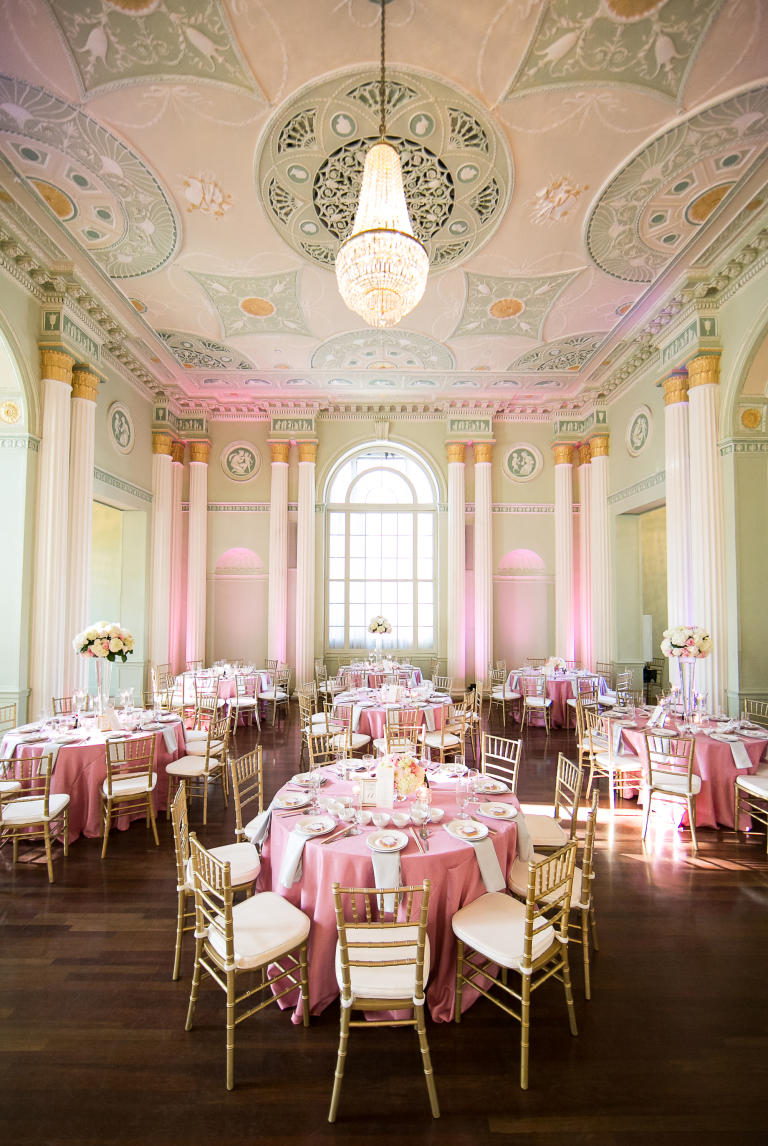 As you're venue hunting, have a color scheme in mind while you look at details like the wall coverings, art and carpeting, or keep your color options open until you find a venue you love. Think about what hues you may want to use, and whether you'd want to prioritize finding the perfect venue or having your perfect palette. In a country club with navy and maroon carpets, a color scheme of lime green and hot pink will clash, and there's really no way around it. (Try to pull it off anyway and you'll end up spending twice what you would normally in decor to cover it up.) That's not to say you have to choose a venue where your colors perfectly match the floors, but you should use the venue's decor as a guide when picking out tones and hues. Do you love pink but have dark colors to work around? Try a soft blush instead of fuchsia.